Hoteljobs in Zermatt
Get paid for being where others go on holiday

Are you the daring type who loves steep climbs? No mountain too high for you, and never at the end of your rope? Does your learning curve put the Matterhorn to shame?
If so, let us suggest your next ascent – up the career ladder: We are looking for authentic personalities, soloists, bright minds with a caring soul (lateral entrants also very welcome), willing to go the extra mile for our guests, and preparing every expedition like a pro.
If your peak performance goes well beyond climbing out of bed and swinging an ice pick, you are probably just the right person to help us run this vibrant base camp of ours.
Why don't you let us have your CV today: Join us on the trail – for a season, for a whole year, or for the long haul?
We can't wait to meet you to talk things over and get you chalked up for an amazing climb.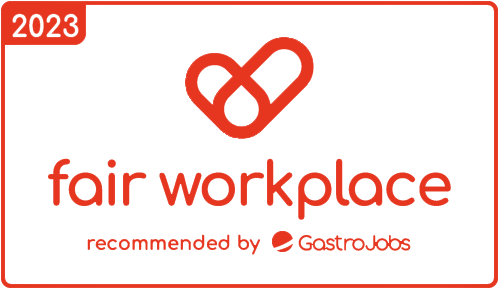 Adventurous benefits
Employee accommodation right in the buzzing, car(e)free alpine metropolis of Zermatt (about 10 minutes on foot from the hotel; single-occupancy room)
Balanced range of staff meals served
Attractive training options provided by Ritzy Formation
Free use of the swimming pool (daily until 15:00)
Bonuses for successfully recruiting fellow members of staff
Special prices for overnight stays, food and drink and spa experiences at the BEAUSiTE, and at selected partner hotels (Private Selection)
Discounts at various local shops and cable cars  
Zermatt – a paradise for explorers
The legendary alpine Mecca of Zermatt lies at the foot of the Matterhorn – probably the best-known mountain in Switzerland (or maybe even the world?). Situated at an altitude of 1,608 metres, it is the perfect starting point for inspiring mini mountain adventures. And that's regardless of whether you like to take things at a run or a stroll. Every time you venture out – whether into the village or into the mountains – you are guaranteed a memorable experience.
Skiing on over 360 km of pistes, culinary voyages of adventure through Zermatt (with over 100 restaurants in the village, as well as 50 bars and huts), grandiose ice caves, museums to educate and entertain, the highest cable car summit in Europe (at 3,883 m above sea level) and, last but not least, our beloved Matterhorn. As you can see, there is limitless scope for exciting indoor and outdoor activities! Be sure to bring your camera with you, for wherever you go, you will find sights that simply beg to be snapped – above all, of course, the dramatic views of our Alps.
See you soon in Zermatt – where alpine spirits take a break.