The Grill is the insider tip for alpine spirits and lovers of outstanding food in Zermatt, thanks also to its open wood-fired grill. The ingredients used here are red-hot British interior design with high-class touches, a relaxed atmosphere and regional cuisine with the emphasis on grilled meats and fish that will delight your palate. You don't need to bring anything with you - except your appetites and alpine stories!
Opening hours
Monday - Sunday
6.30 p.m. – 9.00 p.m.
Contact & Table booking
Choose your own path as long as it's regional
The Grill sets out its store with a beautifully displayed fresh meat counter that will appeal to your sense of adventure. You can select for yourself the exact piece of meat or fish (for the most part from this region) that you wish to eat. To ensure your evening is a success, there are also many side dishes, Surf & Turf classics and vegetarian specials to share and savour. Be prepared for your culinary adventure.
A HIGHER level of care
As every alpinist will tell you, it's critical to respect the mountains. That's why, at The Grill, we have a profound respect for our region and everything in it - and in turn, why we source the majority of our ingredients locally and satisfy ourselves personally that our suppliers observe high standards of animal welfare. That care is tangible, from the farmyard to the sizzling grill rack.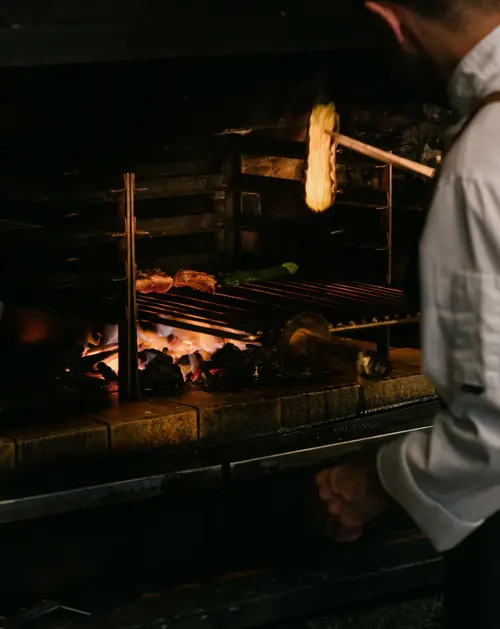 A hands-on chef
Our Chef de Cuisine Christof Nienstedt gets involved not just in the preparation of dishes; he also leaves nothing to chance when it comes to sourcing the produce and upholding standards of quality and animal welfare. As well as being well-connected with local suppliers and having plenty of career experience, he prepares cuts of meat aged on the bone and even makes dry-cured ham and our popular dried meat in his own barn. And when he isn't smoking salmon he can be found at the stove or grill.
"Wine gives us truth; meat gives us strength: So, let us wash the strength down with truth."
Christof Nienstedt, Head Chef
Celebrating good food and good times together
A communal meal brings you even closer together - and tastes twice as good. Why not book our Private Dining Room, which seats up to 12? You are welcome to add your own personal touches and create your own menu: a perfect way to celebrate a special occasion in Zermatt - like conquering that summit?
Celebrating our regional suppliers
Every time you dine at The Grill and raise a glass to someone's health, you are also helping the region flourish. That's because we serve unadulterated and fresh produce, and generally avoid the use of flavour enhancers and artificial aromas. We source most of the produce for our kitchen in our home region.
So here's to:
the Riffelalp Alpine Cooperative for their dried meats and Alpine cheese
the Horu Dairy for the yogurt and cheese made from the milk of Zermatt cows
Christian Kummer for the lamb and the Alpine pork that we turn into ham
LUMA for its hand-picked Old Cow and pork loin products
Jumi, the family-run dairy from the Emmental valley, for its raw milk cheese
Ulrich Stoller from Zermatt, who supplies us with freshly harvested vegetables
Matterhorn Fleisch AG for its hand-picked meat products
And all the other local individuals and companies that make the Grill the hottest place to dine in Zermatt!