New Spa & Wellness Zermatt
This alpine journey begins with taking off your shoes
Our Spa & Recharge Zone guides alpine spirits through a mountain cave area and winter garden zone and into a mind and body space where they feel re-energised and ready for their next adventure. By uniting the Swiss alpine spa traditions with a British touch in a contemporary way, you'll have all you need to send your energy levels sky high.
Swimming expeditions inside and outside
Whether you've just arrived from your trip to get to us or you've spent a day in the mountains, unwinding in one of our pools is the ideal way to recharge. Our warm indoor pool and whirlpools will help restore your energy - and if you're feeling adventurous, you can swim a few laps or enjoy our new outdoor infinity pool with the Matterhorn view. Look out for the gold-coloured glass mosaic stones in the showers, which evoke the Golden Age of alpinism!
Sauna the Swiss way
The real highlight of every hike is the sauna at the end. You'll find the answer to your mind or muscle issues somewhere between the Finnish Sauna, Hammam, Infrared cabin, Vitarium (low temp sauna) and Hay Sauna with the Matterhorn view.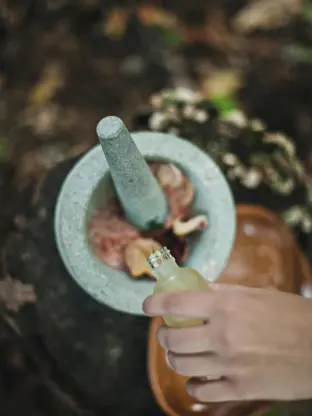 Every alpinist needs a little pampering
Our treatments offer movement inspired by the mountains, recovery inspired by nature, and better breathing inspired by the alpine air. Will it be an energy massage, hot stone massage or a herbal compress? Or will you go off-piste and customise your own? Whatever your path, you'll have our carefully curated natural spa products by your side.

Book your treatment online
Fitness fanatics this way
In case mountaineering isn't enough exercise for you, we also have a fully-equipped gym with natural wood and a sunny design touch. Training for your next expedition? Or listening to your favourite music while pretending to be working out? This is where you'll be heading.
New: Day Spa with Matterhorn view – for all!
We're now taking bookings from non-residents for our Day Spa (views inclusive!). The deal includes admission to the Spa & Recharge Zone with indoor pool, whirlpools and outdoor infinity pool, plus Finnish sauna, hammam, infrared cabin, vitarium, hay sauna and access to the gym. We also provide terry towels, bath robes and slippers, shampoo and shower gel, soft drinks and fruit.
The Day Spa is open as follows:
Indoor, whirlpool and gym: 7 am to 9 pm
Outdoor: 8 am to 8 pm
Saunas and steam bath: 3 pm to 8 pm
Adults: CHF 80 per person 
Kids from 6 until 12: CHF 40 per kid 
Due to the limited number of entries, please make an enquiry by telephone on the day you wish to visit the spa.
"The feeling of reaching a peak is great, but the feeling of reaching the end of one of our treatments is better"
Spa & Recharge Zone Team