The Grill is a red-hot restaurant for alpine spirits in Zermatt (partly thanks to the open wood-fired grill). Here the ingredients are inviting designer interiors, flair, a social setting, and grilled regional cuisine that will be a treat for your tastebuds. You don't need to bring anything with you - except your appetites and alpine stories!
Opening hours
Thursday - Tuesday
6.30 p.m. – 9.00 p.m.
Contact & Table booking
Choose your own path as long as it's regional
The Grill will appeal to your sense of adventure with its open butchery concept that lets you choose your own regional meat & fish. To light up your evening, you will also find a variety of side dishes to share, surf & turf favourites and vegetable dishes (vegetarians welcome!). Be prepared for your culinary adventure.
A HIGHER level of care
Like every alpinist will tell you, it's critical to respect the mountains. That's why, at The Grill, we have a profound respect for our region and everything in it - leading to local sourcing and a personal oversight on animal welfare standards. This care is something that is witnessed from farmyard to the vibrant fireside of The Grill.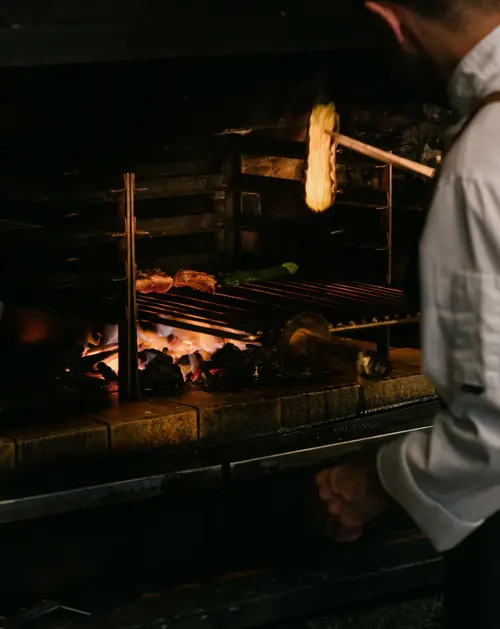 A hands-on chef
Christof Nienstedt is not only hands-on when it comes to preparing the dishes, he's hand-on in his method of sourcing, animal care, creating the products, and connecting the community. When you visit, you may find Christof smoking the salmon, making the homemade sausages, preparing ingredients from restaurant's own cows and pigs…or grilling of course!
"Get ready for a serving of adventure, laughter and culinary pleasure."
Christof Nienstedt, Head Chef
Be as loud as you like
You don't need to keep your voice down in the mountains and you shouldn't at The Grill. Be bold and book our small private room for a maximum of 12 people. You can also add your signature flair with your own setup and menu to celebrate your special occasion in Zermatt...such as surviving that summit.
A toast to our regional producers
When you're dining at The Grill you don't just toast to your health, you toast to the region's health. That's because we use cleaner ingredients (no MSG!), and approximately 75% of our products come from local producers.
So here's to:
Riffelalp Alpine Cooperative for the milk & beef
Horu Käserei for the cheese from Zermatt cows
Christian Kummer for the lamb from the Upper Valais area
LUMA for their hand-selected beef, pork, and veal products
And all the other local individuals and companies that make the Grill the hottest place to dine in Zermatt!